EZtrader is owned by Win Gaming Media Inc (WGM). The company is incorporated and operates out of Nicosia in Cyprus. EZTrader is one of the early birds in the binary options brokerage business, commencing operations in 2008 when the binary options market was fully deregulated to allow private participation.
Even though the company commenced operations in 2008, it struggled until it was taken over by WGM in 2011. This acquisition seems to have steadied the boat and EZTrader has begun to emerge as a force to be reckoned with in the binary options marketplace.
Software & User Friendliness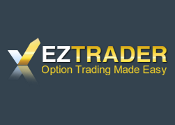 EZTrader uses their own proprietary trading platform, following in the footsteps of brokers such as Betonmarkets. As such, there are unique trade types on the EZTrader platform.
Trading on the EZTrader is mainly via the Call/Put binary options contract. The payouts for this option contract rank among the highest in the industry. Payouts typically approach 95% for successful trades. Traders wishing to close out profits early can use the "Sell Option" function on the EZTrader platform.
Visit EZTrader Website >>Open a free Live Account >>
Asset Index
Assets that can be traded on the EZTrader platform are:
Commodities: Gold, silver and oil and natural gas.
Currencies: EURUSD, GBPUSD, USDJPY, GBPJPY, EURGBP, EURJPY, USDCAD, USDCHF, AUDUSD.
Indices: DJ30 (Dow Jones), IBEX-35 (Spain), CAC40 Futures, FTSE Futures, NASDQ100, DAX30 Futures, S&P500 and Hang Seng.
Stocks: Amazon, Apple, AXA, Barclays, BBVA – Banco Bilbao, BMW, BNP Paribas, BP, Credit Agricole, Daimler AG, Deutsche Bank, Deutsche Telekom, EDF – Electricité de France, French Telecom, Google, HSBC, Inditex Madrid, Microsoft, RELIANCE INDUSTRIES, Royal Bank Of Scotland, Sanofi – Paris, TATA STEEL LTD, Telefonica, TESCO PLC, Vodafone.
The minimum investment amount on EZTrader is $24. The exact amount differs from country to country. The maximum amount ranges from $5000 to $15000 per contract.
Security & Reliability
Regulation of EZTrader is by the Cyprus Securities Exchange Commission (CySEC) and the Markets in Financial Instruments Directive (MiFID) regulatory protocol of 2009.
Bonuses and VIP Program
The following bonuses are available to traders using EZTrader:
Account funding bonuses: All new traders are given an account opening bonus equivalent to 40% of their deposit sum. However, traders must deposit at least $500 to enjoy this bonus.
Special Trading Bonuses: There are other targeted bonuses which are given to existing traders from time to time.
Referral bonuses for traders who are able to introduce other traders to EZTrader.
Special Features
EZTrader has incorporated a unique feature that allows traders to sell their positions before expiry to lock in profits, becoming one of the few binary options brokers to offer this service. This service comes at a premium as traders either have to sacrifice some profits via a reduction in expected percentage return or pay some money to close out early losses. This feature becomes available three minutes after opening a trade position.
EZTrader is one of the few brokers that do not operate a discriminatory benefits policy. All traders get the same benefits and level of service no matter how much money they have in their accounts. This is a unique feature in a market where brokers tend to discriminate and load up more bonuses and benefits for the high rollers.
EZTrader also provides a number of educational resources to help traders get a feel of their platform before committing to a trade.
Mobile trading with the iPhone, iPad and Windows mobile devices is possible with EZTrader, thanks to the new mobile trading application known as EZMobile.
Deposit and Withdrawal
Credit card/debit card: The minimum deposit is $200 while the maximum is $10,000 at a time or $40,000 monthly. Cards accepted on EZTrader include MasterCard, VISA and American Express. Deposits are instant.
Electronic payments: Moneybookers is the e-wallet option used. Deposits are instant and minimum deposit amount is $200.
A minimum of $200 is allowed for transfers done with bank wires. Deposits take a few working days to reflect in trading accounts.
Traders are expected to use the same method for funding and withdrawals. Traders can operate their accounts in USD, Euros, GBP and JPY.
There are no withdrawal limits or any restrictions placed on withdrawals with EZTrader. The minimum investment amount per trade is $25, while the maximum is $3,000.
Traders withdrawing with credit cards must scan the front and back of their cards (blocking off the sensitive information apart from last 4 digits of card number) and send to EZTrader for payment verification.
Support
Traders can access customer support on EZTrader in the following ways:
Live chat
Email: support@EZTrader.com
Phone: +1 800 435 7042 (US Toll free number)
EZTrader is reputed to have a great customer service platform. The customer service desk is multilingual.
Our Opinion
EZTrader has been able to emerge from the dark days of its first years of operation to give traders a more pleasurable experience when it comes to binary options trading. It is hoped that the new management can build on the gains recorded so far in improving the services that traders receive on their platform. One area that EZTrader needs to work on is to improve the loading time of their website. This can be done by eliminating some of the distracting graphics on their home page.