Due to the recent popularity of online binary options trading, there have been a number of new platforms established over the past few years. With so many to choose from, it is important to understand the features and benefits of each in order to determine which may best fit a particular trader's investment strategies and goals.
Key Facts About EZBinary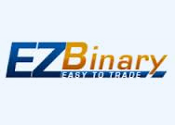 EZBinary was founded in 2011. The base for this online binary options trading platform is in London, and the company also has additional office locations in France, Canada, Russia, Hong Kong, Australia, Norway, Cyprus, Singapore, Mexico, South Africa, Spain, Bahrain, and the United States.
This platform has several unique features that were established in order to meet numerous different money management styles, while at the same time maintaining ease of use for its traders.
In addition to individual stocks, indices, commodities, and currency pairs, EZBinary also offers traders bonds as an underlying asset choice. Traders have many choices for their binary options' expiry times – including end-of-day and several days.
On average, traders can profit with returns of up to 85 percent for in-the-money trades. For options that expire out-of-the-money, EZBinary only offers 0 percent, with no additional return to the investor. The minimum trade amount for trades on EZBinary is $20.
EZBinary offers a variety of different binary options types, including digital, range, and touch. Some of its unique trading tools such as Extend and Choose can enable a trader to close their options prior to the options expiry time or to expand the time of the options expiry automatically subsequent to purchasing the option. This platform also provides a free live signal service to its users.
Visit EZBinary Website >>Open a free Live Account >>
Software & User Friendliness
As EZBinary is 100 percent web based, traders are not required to download or install any additional trading related software. Once an account has been opened and a deposit made, traders can quickly begin participating in binary options trading transactions. This also means that trades can be made instantly from around the globe as long as the trader has access to the Internet.
Security & Reliability
In keeping with security and privacy regulations, EZBinary makes use of encrypted data. This helps in ensuring that its user's personal and financial information remains safe and private. This is essential in order to avoid hacking and/or investment fraud. In addition, traders' funds are kept separate from company funds in order to ensure their safety.
Bonuses and VIP Program
Those who are new traders to EZBinary may be able to receive a bonus of their initial investment of $500 or more. And, while EZBinary does not offer demo accounts to its traders, the platform does provide a VIP program.
Special Features Offered by EZBinary
While offering a number of easy-to-use trading features, EZBinary also possesses two exclusive features that allow its users the potential to increase their binary options trading profits – and they are able to do so without an additional deposit of funds.
First, EZBinary offers a roll over option. This feature will allow a trader to lengthen the expiry time of their option trade. This is especially beneficial if a trader feels that their option will expire out-of-the-money based on its original expiry.
Another unique feature that is offered by EZBinary is the double up option. Here, traders are able to cash their winning forecast and earn additional money with their present stand. When using the double up feature, traders can essentially double their trade using the same option strike price by purchasing one more binary option with the same conditions. Should these trades expire in-the-money, the trader will be able to double his or her profit.
In addition, in order to assist traders further with making profitable trades, EZBinary provides both daily and weekly market reviews. The site also offers past expiry rates during market hours. Because this platform remains open 24/7 and on most holidays, traders are able to transact trades and call for assistance at nearly any time.
Deposit and Withdrawal
Traders using EZBinary have several options for deposit methods, including credit cards, wire transfer, and Moneybookers. There are no fees or commissions charged to those who trade on the EZBinary website. The minimum initial investment that is required by EZBinary is $200 – although it is advisable to begin with approximately $500 as a trader could then be eligible for a bonus amount.
Regarding the withdrawal of funds, the first such withdrawal in one calendar month is free of charge. However, subsequent withdrawals that are made by a trader in the same month will have a fee of $30 each. Withdrawals are typically processed within 24 hours of their request by the trader.
Customer Support
EZBinary offers customer support to traders round-the-clock. The EZBinary platform provides its users one-on-one training with a personal account manager who will work closely with the trader in order to help educate and train them on both basic and advanced binary options trading strategies.
And, in order to accommodate a diverse number of traders, EZBinary offers its platform to traders in several languages. At this time these languages include English, Spanish, French, Norwegian, and German. Customer support representatives may be reached via phone, email, and/or online chat.
Our Opinion Regarding EZBinary
Although it is a relative newcomer to the binary options trading arena, EZBinary offers a number of attractive benefits for its traders. Given its variety of unique trading features, highly acclaimed customer support, and ease of use, we feel that EZBinary is a great platform for both new and experienced binary options traders.