Binary options traders have a wide variety of available alternatives when it comes to trading in this popular market. One of the newer alternatives is CitiTrader. This platform offers a total of 83 different underlying assets to choose from, as well as many option expiry times and options for weekend binary options trading.
Key Facts About CitiTrader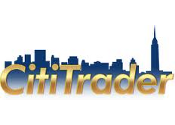 The CitiTrader binary options trading website was established in 2011 by a group of Wall Street brokers. This site offers its users over 80 underlying assets to choose from, including individual stocks, indices, commodities, and currency pairs.
CitiTrader users have the ability to profit between 65 and 75%, with a refund on out-of-the-money traders that ranges from 0 to 10%. Site users are required to deposit a minimum of $200 initially.
This platform offers its users a number of different educational alternatives such as private webinars and 1 on 1 learning sessions. These may be beneficial for both new and experienced traders alike, as they can provide details on the overall binary options trading market, as well as information regarding new and updated investing strategies.
Visit CitiTrader Website >>Open a free Live Account >>
Software & User Friendliness
CitiTrader uses the SpotOption binary options trading platform. This browser based system is 100 percent web based, meaning that users are not required to download any additional software in order to use the trading platform.
Even though CitiTrader's platform does not possess an extremely attractive design, it is both user friendly and modern. The website is available in several different languages, including English, Arabic, French, and Hindi.
Due to its ease of use, many newer binary options traders may choose to use CitiTrader in order to get a true feel for the market as well as with how profitable trades may be initiated. In addition, a demo account is also offered to traders.
Security & Reliability
As with most of the other binary options trading websites, CitiTrader provides security of information to its users via the transfer of encrypted information. This 100% secure trading experience can help in protecting traders' private personal and financial data.
Bonuses and VIP Program
CitiTrader will offer traders a bonus of up to 100%, depending upon the trader's deposit – and the platform does not require any fees on trader deposits. The VIP program that is offered by CitiTrader can provide its site users with many additional benefits such as a detailed walk-through of how to make effective and more profitable trades.
Special Features Offered by CitiTrader
Overall, CitiTrader offers an average trading platform that is based predominantly on the SpotOption technology. Some of CitiTrader's enhancing features include 60 second binary options alternatives, option builder, rollover, and close now options.
Deposit and Withdrawal
Users of CitiTrader must make a minimum initial deposit of $200. This may be done through a variety of methods, including wire transfer, credit card, and/or online payment processing systems such as Cash U. The minimum amount that is required per trade is $20.
When traders wish to make a withdrawal, there are a few stipulations that must be followed. First, the maximum amount that can be withdrawn via credit card is the same amount that a trader deposited with this method. Otherwise, all other withdrawals must be taken through wire transfer. In addition, the minimum amount of withdrawal that may be taken with a wire transfer is $500 – and there is a $25 fee for withdrawing funds in this manner.
Customer Support
Customer support at CitiTrader is offered primarily in English, although this is likely to change in the future, as this site employs more traders who have international trading experience and expertise.
Traders who use CitiTrader may dial in to customer support via one toll-free telephone number. Representatives are also available to answer questions or concerns via email. Customer support is offered at CitiTrader on a 24/7 basis.
Our Opinion Regarding CitiTrader
As a relatively new trading platform, CitiTrader has a very good reputation for offering binary options trading education and support. The site provides a wide variety of underlying assets from which to trade – and with its 60 second option trading alternative, traders have the ability to make profits very quickly.
After reviewing CitiTrader, we feel that newer traders may find CitiTrader especially beneficial due to the support that is offered, while those who have more experience may also find benefit through the CitiTrader platform.